Serving Stillwater and Ponca City
(405) 624-1077 · toll-free 1-800-383-SKIN (7546)
About Us
What we do at Stillwater Skin & Cancer Medical Clinic, Inc.
Dr. Breedlove established Stillwater Skin & Cancer Medical Clinic, Inc. in Stillwater, OK in October, 1981, and opened his practice in Ponca City, OK, in 1982.
As a board-certified dermatology practice, Dr. Breedlove and his staff are the first people you should see regarding skin cancer and acne. Dr. Breedlove, and his staff, have a special interest in skin surgery and skin cancer. Most surgeries are performed under local anesthetic with minimum discomfort in the quiet comfort of our offices. Typically, surgeries do not require post-surgery medication, and few require stitches in the skin. You have very little downtime, and very little post-operative discomfort.
The most common patient response is wishing they would have had their skin growths removed years before. It was SO easy to have them removed. They are very grateful!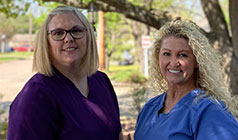 Ms Crystal Scott (in purple), office manager, has been with us 2008. Ms. Paula Shenold (in blue) has been here since 2015. Separately in her own business venture, Ms Shenold offers spray tans and eyelash extensions as her additional business ventures on the west side of our Stillwater facility. She also has an office in Yale, OK. Paula maybe contacted at (918) 306-1069
Dr. Breedlove and his staff saved my life by diagnosing a malignant melanoma skin cancer!
– Recent Skin Cancer Survivor